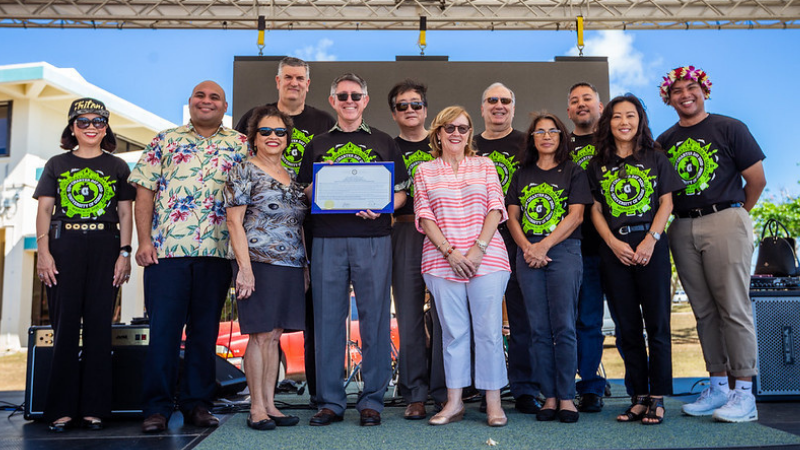 52nd Charter Day showcases UOG's global impact
Children, parents, professionals, public officials, and others from the island community filled the University of Guam campus on March 10 for the university's 52nd Charter Day celebration.
"This is the biggest day of our year," President Thomas W. Krise said during the opening ceremony.
Charter Day marks the anniversary of the university's founding in 1952 and the signing of the charter that renamed the Territorial College of Guam to the University of Guam in 1968.
This year's "Local Inspiration, Global Impact" theme emphasized how UOG is bringing island wisdom from this region to a much broader community through its research, partnerships, and people.
Among the visitors to campus were more than 2,000 elementary, middle, and high school students from the island's public and private schools, who explored the university's schools, colleges, research units, and programs through tours, demonstrations, hands-on activities, and competitions.
"This is a great opportunity for them to see themselves on a college campus, to imagine their future – coming here, finishing degrees, and moving on to make a difference in our world," Krise said. "These young people may be future Tritons and are certainly the future of our island and region."
 Excitement over Esports
New to the Charter Day festivities this year was an Esports competition, developed and hosted by the UOG Office of Information Technology and UOG Marketing & Communications. In a specially designed Triton Esports  Game Center at the Computer Center, video gamers went head to head in pickup matches of popular games including Rocket League, Fortnite, Rainbow Six Siege, Super Smash Bros., and League of Legends.
Other competitions throughout the day included a 4-H Fish Farm Challenge by UOG's Cooperative Extension & Outreach, the CHamoru Language Competition held by the College of Liberal Arts & Social Sciences, and a high school level Chemistry Titration Competition held by the College of Natural & Applied Sciences.
 Continuing to rise
In his opening remarks, Krise highlighted the university's newly launched five-year Para Hulo' Strategic Plan, which will enrich the student experience and grow the university's research capabilities and partnerships as it continues to address challenges and expand opportunities in the Micronesian region.
The governor thanked the university for its commitment to advancing higher education and critical thinking in the region, saying the students who graduate from UOG are the basic foundation of the region's workforce and economy.
"UOG has been in existence for 68 years, and as a result, we have become a well-developed community, and our impact and influence through the whole Micronesian region is nothing but positive," Gov. Lou Leon Guerrero said. "I want to invite all of the region to come, learn from our university as you will be a success in the endeavors and the careers that you are pursing."
Photos from Charter Day