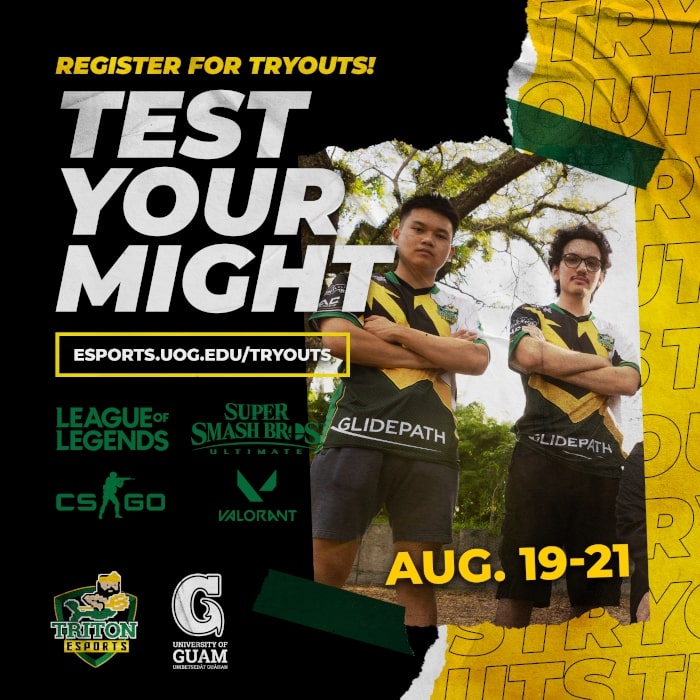 Triton Esports tryouts set for Aug. 19
The University of Guam Triton Esports program will hold tryouts Aug. 19-21 for its League of Legends, Super Smash Bros. Ultimate, and first-person shooter(FPS) team rosters. Tryouts are open to all full-time UOG students interested in esports and competing in local and national tournaments.
Students who join the team may be awarded a scholarship of up to $500 for their time and commitment.
Tryouts are set for: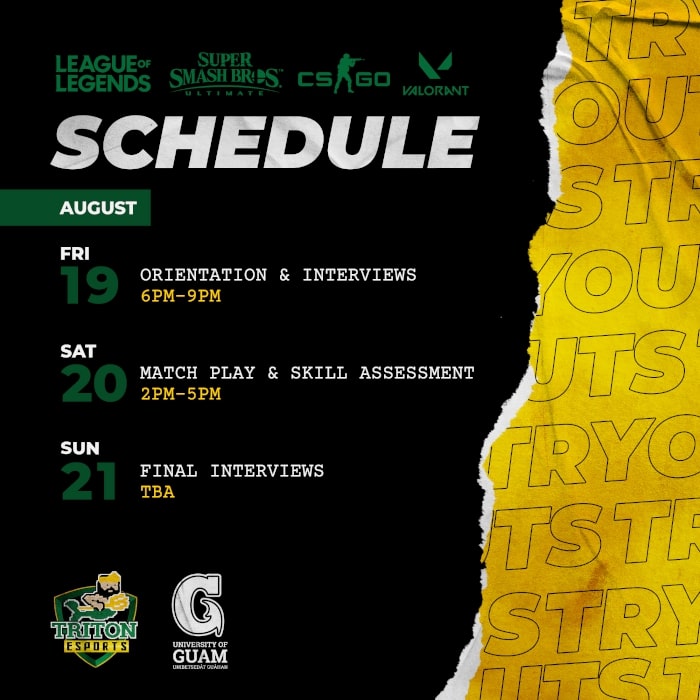 – 6 p.m. – 9 p.m. on Friday, Aug. 19
– 2 p.m. – 5 p.m. on Saturday, Aug. 20
– Time TBD on Sunday, Aug. 21
League of Legends: UOG Triton Esports Discord (Online)
Super Smash Bros. Ultimate: Triton Esports Broadcast Studio
CS:GO/VALORANT: UOG Triton Esports Discord (Online)
Triton Esports launched in February 2020 followed by an overwhelmingly successful first year. In 2022, the program reached new heights, with a top 16 finish in the nation for the Super Smash Bros. Ultimate team. Additionally, athletes Daryl Dianzon and Barron Tranate placed third and fourth respectively in the NACE Community Cup – a seasonal intercollegiate tournament showcasing some of the best collegiate Smash players in the nation.
As Guam's first-ever collegiate esports team, Triton Esports aims to lead the way by molding student-athletes into leaders through diligent coaching, training, and mentorship.
The tryouts will be streamed live on Twitch with local shoutcasters providing commentaries on the matches. The stream will highlight live in-game footage from League of Legends, SSBU, Valorant, and Counter Strike: Global Offensive as the matches progress, allowing fans to view the best action during tryouts.
Students interested in participating in team tryouts can apply at esports.uog.edu/tryouts.
Interns needed
Alongside tryouts for esports, Triton Esports is also accepting interns for a variety of tasks within the program, including social media assistant, marketing assistant, web developer, and shoutcasters. Interested parties can contact Triton Esports Manager Ken San Nicolas at sannicolask@triton.uog.edu.
For updates and more information about Triton Esports, follow Triton Esports on Instagram, Twitch, and Discord.