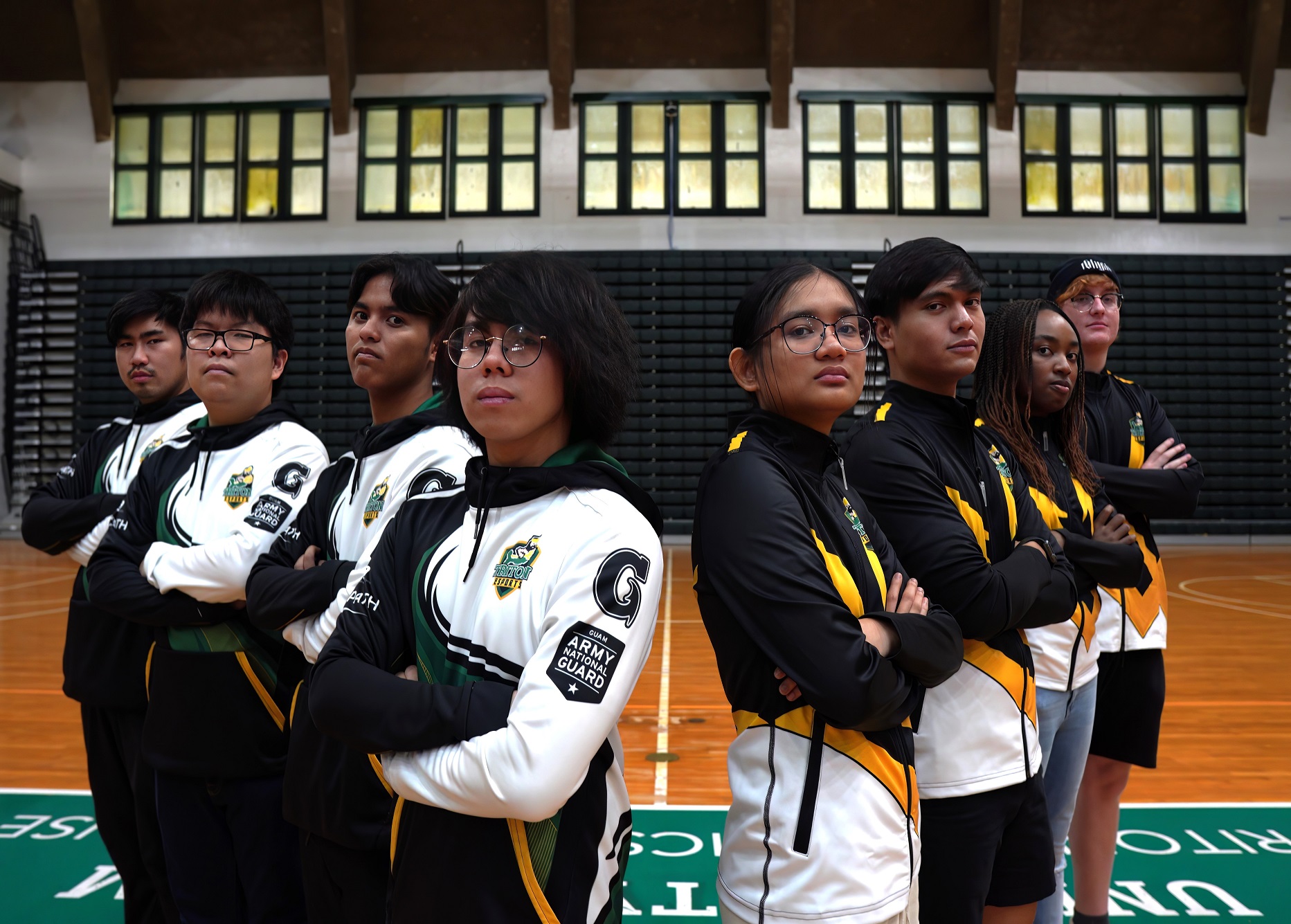 Triton Esports announces new additions and team rosters
---
The Triton Esports program at the University of Guam has established its roster of student-athletes for Fañomnåkan 2023. The Tritons are competing in five games for this season: Super Smash Bros. Ultimate, League of Legends, Valorant, and for the first time, Chess, and Overwatch 2.
Following tryouts held on January 06, 2023, 29 student-athletes were selected based on their versatility and skills. The team members that complete the program goals will each receive a stipend award of up to $500. All athletes are given internship roles, such as, production, caster, marketing, and web development, to give a hands-on experience to help athletes gain and excel in valuable work experience as well as develop new skills outside of their respective sport.
---
REPRESENTING TRITON ESPORTS ON CHESS ARE: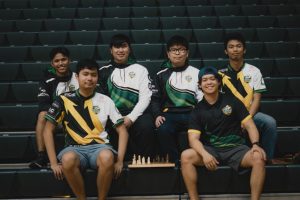 Team Captain – John "JohnKaramihan" Karamihan
Barron "Trix" Tranate
Daniel "leinad" Doria
Darren "caldistic" Caldwell
Jamar "Jam N Toast" Nucum
Kaelan "PACIFICVAGABOND" Arciaga
Patrick "Volt43" Lagman
Ronee "CapsTwo" Pangilinan
The Triton Esports Chess team (back row, from left) Barron Tranate, Ronee Pangilinan, Patrick Lagman, Daniel Doria, (front row, from left) John Karamihan, and Darren Caldwell. Not pictured: Coach Ken San Nicolas, Kaelan Arciaga, and Jamar Nucum.
KNIGHT TO H3…CHECK! Behold Chess! Triton Esports presents the classic game of chess, this time from a new perspective — online. The Chess team is coached by the esports manager and overall head of Triton Esports Ken San Nicolas. Chess.com is an internet chess server, and is the #1 platform for online chess. Our Chess team competes at 5 AM every Sunday against some of the best Universities across the nation.
Triton Esports is always evolving and has transformed chess players from board gamers to competitive online athletes. This new esport game brings it to a wider audience and showcases the strategic and competitive nature of the game.
The Triton Esports Chess Athletes are also known for their dedication to promoting it as a sport and their involvement in various chess-related activities, such as coaching and mentoring youth at local elementary schools. Overall, the new collegiate esports game of chess is an exciting development that showcases the growing popularity of esports and its potential to expand into new areas. Check Mate! Triton Esports present to you the newly established Chess team!
---
REPRESENTING TRITON ESPORTS ON OVERWATCH 2 ARE: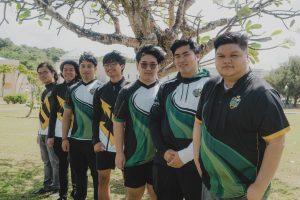 Team Captain – Ronee "CapsTwo" Pangilinan
Cean "Ocean" Termulo
Jaden "Milky" Rosario
Jamar "JamNToast" Nucum
Ronald "Zero" Oplado
Rylan "Hyecon" Escobar
The Triton Esports Overwatch 2 team (from left) Jaden Rosario, Ronald Oplado, Rylan Escobar, Jamar Nucum, Cean Termulo, Ronee Pangilinan, and Coach Darren Ulloa.
Heroes Never Die! If you're a fan of Overwatch, then you'll be excited to hear about the new UOG Triton Esports team! Led by Coach Darren "Whirly" Ulloa, the team is ready to take on the best of the best in weekly collegiate Overwatch 2 games.
But it's not just about winning for our squad of passionate gamers. They're dedicated to showcasing the teamwork, strategy, and excitement that make Overwatch one of the most popular esports games out there. And with their impressive skills and unwavering dedication, they're sure to bring some serious competition to the arena.
These players are not only highly skilled, but they're also great ambassadors for the esports community, inspiring the next generation of gamers and promoting the sport as a legitimate form of competition. Stay tuned for some epic matches and unforgettable moments from this talented team!
---
REPRESENTING TRITON ESPORTS ON SUPER SMASH BROS. ULTIMATE ARE: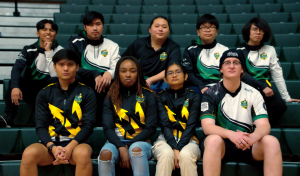 Team Captain – Ronee "CapsTwo" Pangilinan
Aaron "Aaradication" Vice
Angelina "Angie" McCeader
Barron "Trix" Tranate
Darren "wrendalx" Palmes
Marc "Mitro" Bay
Mian "koifish" Rodriguez
Patrick "Volt43" Lagman
The Triton Esports Super Smash Bros. Ultimate team (back row, from left) Barron Tranate, Ronee Pangilinan, Coach Michael Park, Patrick Lagman, Marc Bay (front row, from left) Darren Palmes, Angelina McCeader, Mian Rodriquez, Aaron Vice.
Attention all gamers! Get ready to cheer on our elite Smash team as they take on the competition in NACE! Our team previously went on to the NACE playoffs with a strong streak and finishing the season with a whopping record of 6-1. Although the team fell short, they're back once again to make a comeback with a tasteful mix of veterans and talented newcomers.
Led by Coach Michael "K3D" Park, our players have been training hard and are more determined than ever to come out on top. Our team is ready to bring their A-game and show everyone what the UOG Triton Esports Smash team is all about. So grab your popcorn and get ready for an exciting match-up because our team is ready to smash the competition and come out victorious!
---
REPRESENTING TRITON ESPORTS ON VALORANT ARE: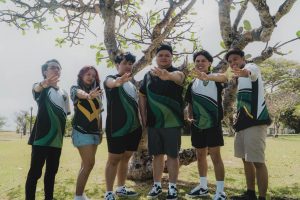 Team Captain – Dean "AllaDean" Santos
Barron "Trix" Tranate
Cean "Termulo" Termulo
Jaden "Milky" Rosario
Jeremiah "Weari" Manibusan
Margarette "mai" Tinio
The Triton Esports Valorant team (from left) Dean Santos, Margarette Tinio, Cean Termulo, Coach Darren Ulloa, Jeremiah Manibusan, and Barron Tranate. Not pictured: Jaden Rosario
Here comes the party! UOG Triton Esports proudly presents the Valorant team! Making up a good list of new and familiar shooters. A group of W holders led by Coach Darren "Whirly" Ulloa.
The team currently competes in the NACE Valorant games, which are the ultimate tests of skill, strategy, and teamwork. They train hard and compete even harder, always pushing themselves to be the best they can be. Whether they're clutching epic wins or learning from tough losses, our squad are all about the thrill of the game.
But they're not just in it for themselves. They're also dedicated to promoting esports as a sport and inspiring young players to follow their dreams. They're always looking for ways to give back to the community, and will do so in a variety of ways this Spring. In April, the team will assist with the Marianas Esports League, as they provide computers and peripherals for the multi-day tournament. In early summer, the team will host their very first esports boot camp catered towards middle and high schoolers alike.
---
REPRESENTING TRITON ESPORTS ON LEAGUE OF LEGENDS ARE: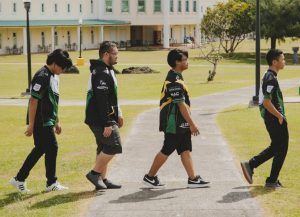 Team Captain – Tristan "lCrimsonCometl" Romero
Emmanuel "Azazel" Velayo
Jhudiel "JhuJhu" Tayo
John "Shirakudai" Ignacio
Maoie "MaoieXVI" Jerao
Rylan "Hyecon" Escobar
Ryoh "YoRS" Sato
The Triton Esports League of Legends team (from left) Emmanuel Velayo, Tristan Romero, John Ignacio, and Maoie Jerao. Not pictured: Jhudiel Tayo, Rylan Escobar, Ryoh Sato, and Coach Jonathon Dunna.
Lastly, we have the UOG Triton Esports League of Legends team! A bunch of summoners led by Coach Jonathon "DunnaDunnaDunna" Dunna.
The team has nice blend of veterans and rookies, with each getting accustomed to their teammates and the communication and chemistry challenges that accompany it. Our team practices trice a week and are looking to make an impact in collegiate play at the Wagner Collegiate Invitational. The team will also host their first ever esports boot camp for aspiring League of Legend players in June of 2023.
---