UOG Triton Esports: Chosen for the International Esports Federation Worlds Training Camp 2023 in Busan, Korea!
Mangilao, Guam – The UOG Triton Esports League of Legends team has been selected to participate in the International Esports Federation (IESF) Worlds Esports Training Camp 2023 in Busan, Korea. Triton Esports is 1 of 6 teams selected for this opportunity.
Tristan Romero (Team Captain, UOG), Jhudiel Tayo (Assistant Coach, GCC), Aiden Cox (UOG), Ryoh Sato (UOG), and Maoie Jerao (UOG) will be representing the Triton Esports program over the course of this 2-day seminar.
From 28th to 29th November 2023, the team members will receive education and training on various aspects of esports through online and on-site programs. Participants will then benefit from enriched on-site esports training, including participation in an active scrimmage against professional Korean League of Legends teams.
The Tritons will be joined by 5 other teams from Southeast Asia, the Middle East, Africa, and the Caribbean.
Team Captain Tristan Romero is grateful for the opportunity to learn from some of the game's best players.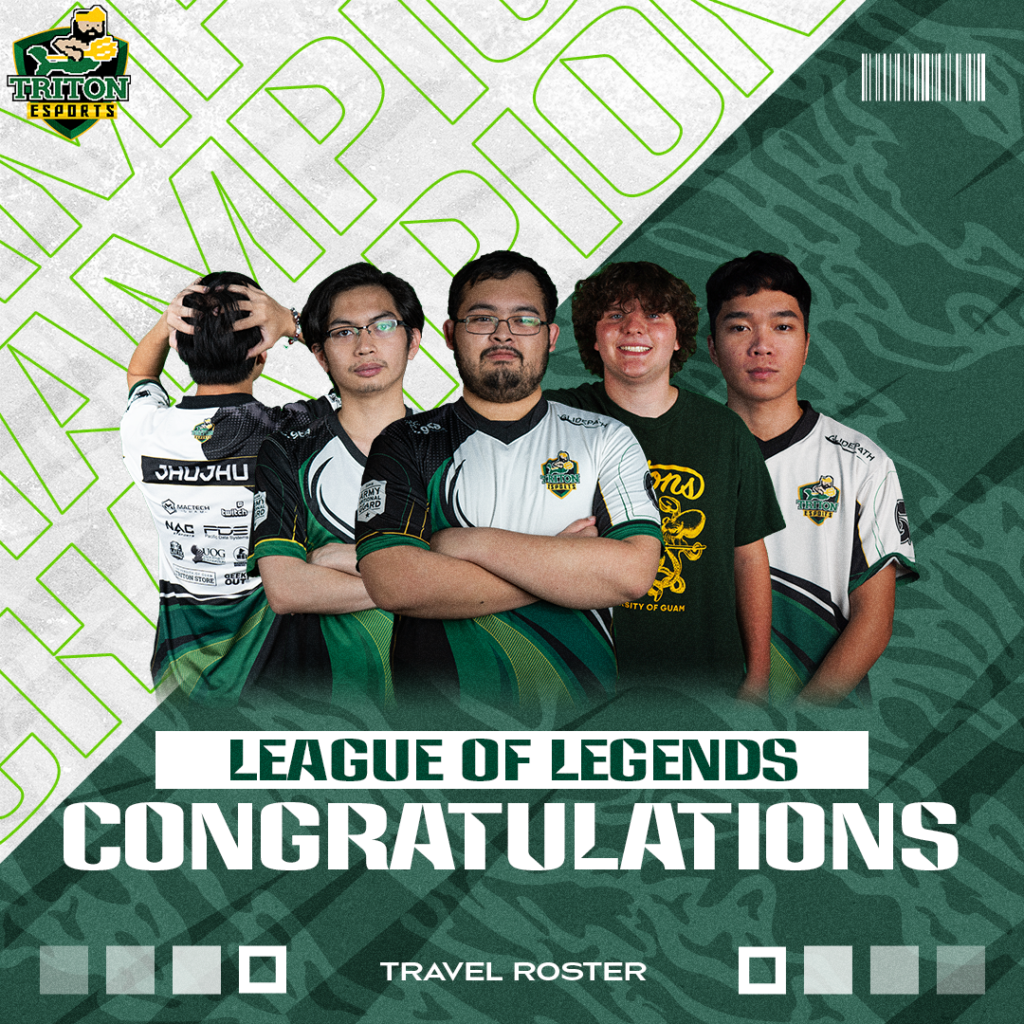 "This is a once-in-a-lifetime opportunity to be a part of the international boot camp and I can't wait to learn from one of the best regions in the League of Legends scene. I'm really excited to have myself and my teammates gain a new competitive perspective. I can't thank our manager Ken San Nicolas enough for encouraging us to try out for the opportunity. We are excited to fly out to Korea for training and to gain new experiences along the way. Also, thank you to the Guam Esports Federation for giving their stamp of approval which helped our chances during selection. "
The International Esports Federation is a global esports entity that focuses primarily on national competitions. They host the World Esports Summit annually and are one of the leading organizations in the international esports space. IESF has hosted the WE Summit every year since 2016 and is constantly evolving to best serve and unite key esports stakeholders from around the world to promote discussion, evolution, and good governance.
The city of Busan is also the host city for the League of Legends World Championships, currently going on and ending on November 19th.
The UOG Triton Esports League of Legends team is currently in its fourth season of collegiate play in the National Association of Collegiate Esports. The team boasts its biggest roster since its inception, with the league team consisting of 11 of the 40 players on the entire Triton Esports Roster.