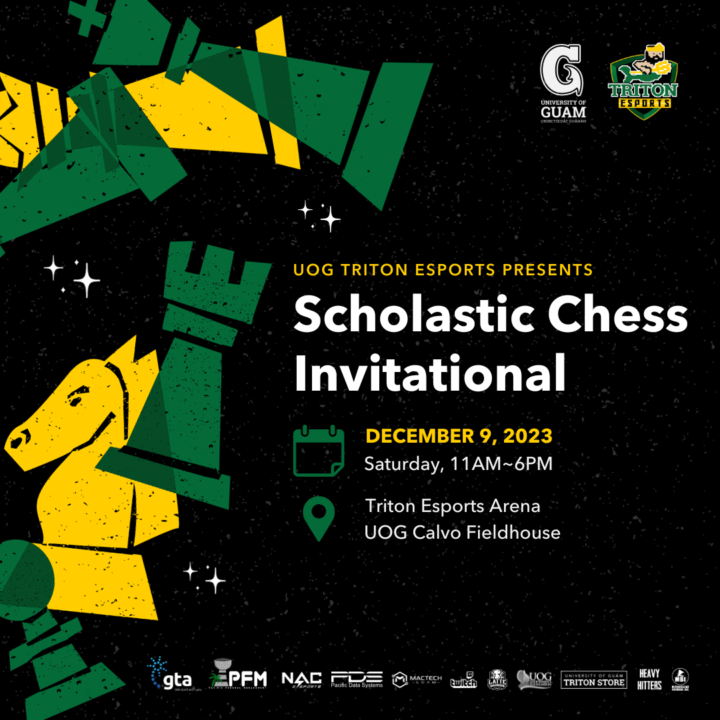 UOG Triton Esports to host first ever Scholastic Invitational Chess Tournament
Mangilao, Guam – The University of Guam Triton Esports program will be hosting an invitational chess event on December 9th at the UOG Triton Esports Arena located in the Calvo Fieldhouse. The event is slated to take place from 11 AM to 6 PM and will feature up to the 2 best players from various educational institutions around the island. This tournament aims to promote and celebrate the strategic game of chess among middle and high school students in Guam.
The event is organized and managed by the members of the UOG Triton Esports Chess team. While the visuals of the game can't compare to that of other esports, chess matches still provide excitement and are one of the most popular esports played at the collegiate level. Having recently concluded a successful 8-week intercollegiate chess season, competing against universities nationwide as part of the National Association of Collegiate Esports (NACE), the team is poised to bring their expertise to the local scholastic stage.
Chess has seen a popular resurgence on the island, with over-the-board tournaments being held every weekend by the Guam Chess Federation. The difference between this scholastic tourney is that all matches will be played on PC with their opponent on another device. Additionally, every round will have a featured match which will be streamed for viewers on YouTube. Interested fans can watch the matches at
https://www.youtube.com/@UOGTritonEsports/
In the spirit of inclusivity and friendly competition, schools from across the island are encouraged to submit the names of their representatives by November 22nd. Interested institutions should submit those names to Ken San Nicolas at sannicolask@triton.uog.edu